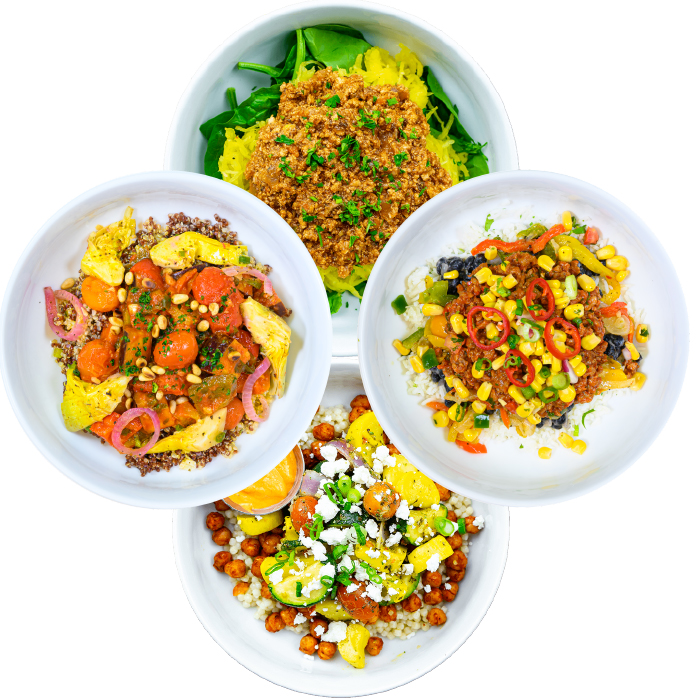 For years, research has proven the benefits of a plant-based diet, and it seems that more and more people are finally catching on. Here at MightyMeals, we are all about empowering people to live healthier lives, and that includes providing our customers with menu choices that will keep their mind, body, and spirit in tip-top shape. Whether you are eliminating meat from your diet for health or environmental reasons, or are simply aiming to eat more veggies for a nutritional boost, you'll find that MightyMeals new plant-based menu is packed with flavor, protein, and variety. You won't even miss the meat, we promise! 
Five Benefits of a Plant-Based Diet
Prevents Disease


Research shows that a plant-forward, whole foods diet can prevent, and sometimes even reverse, chronic diseases, including type 2 diabetes, heart disease, and certain cancers. It can also minimize your risk of stroke and high cholesterol.



Helps Maintain a Healthy Weight


Plant-based diets are packed with fiber and healthy nutrients that help fill you up without  adding extra calories, and in turn, you drop the pounds. By replacing certain meats with vegetables, your risk for obesity drops significantly.

Reduces Inflammation


Chronic internal inflammation can trigger a variety of health issues, and never fully disappears until you figure out the root of the problem. Diet is one of the best ways to heal your body and combat this common issue. A plant-based diet is loaded with phytonutrients, which have tons of anti-inflammatory benefits, and are low in toxins and bacteria.

Boosts Your Immune System


Plants are packed with vitamins and nutrients that your body needs to fight-off infection. The antioxidants found in plants help strengthen your immune system and keep your cells healthy while fighting-off germs.

Keeps Your Brain Strong


Research shows that the more vegetables you incorporate into your diet, the lesser your chance of developing Alzheimer's or dementia later in life. The gut is connected to the brain, and gut inflammation has been linked to depression and anxiety. Those who follow a plant-based diet experience a sharper mind and positive mental well-being, and less symptoms of anxiety and depression. 
Check out MightyMeals new plant-based menu offerings, and add some to your next order for delivery right to your door! 
Coming Soon!! 
Cauliflower Curry

Tofu Poke Bowl

Caponata Quinoa Bowl

Stuffed Portobello

Beyond Sausage Spaghetti Squash

Beyond Breakfast Bowl